Professional solutions for 3Design CAD software users
Taipei, Taiwan – MSI today announced that MSI and Gravotech group have initiated a patnership to help jewellery professionals and designers go through creative challenges with most powerful mobile workstation and creative software tool. Optimize modeling speed and enjoy a real 3D creative experience when running 3DESIGN software solutions on MSI mobile workstation. MSI is only brand with in-house design, R&D, testing, manufacturing, and tech support. WS72 is the slimmest 17.3" Mobile workstation with 100% AdobeRGB ready, it provides best screen and optimized performance. WT72 is most powerful laptop with Quadro M5500M for Enthusiast Designer who is looking for the best effect, desire to push the limit at art. Both companies will strike at offering an unbeaten user experience for jewelry designers and other creative experts using 3DESIGN technology and MSI™ mobile workstations.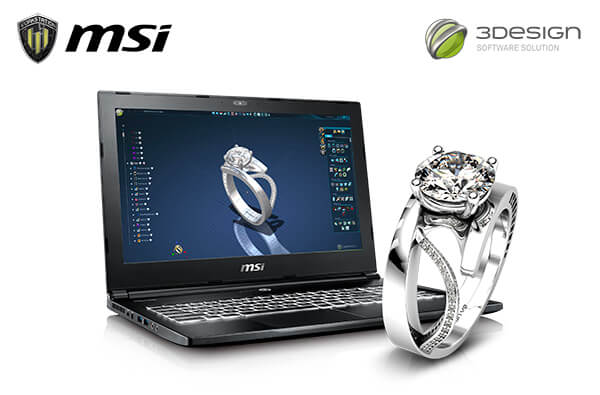 MSI is more than just gaming, also develop systems for the professionals in the field of animation, game development and architecture with the workstations notebooks product lines. MSI provide newest workstation family, and make sure MSI and Type3 are ensuring a great experience for our users."
"Through its partnership with MSI, Type3 (a brand of Gravotech) has tested and certified the MSI Mobile workstations, and has selected a choice of equipment. So that Professionals, Manufacturers, Designers using our 3DESIGN software, the only 3D parametric CAD solution dedicated to the jewelry market, will experience optimum functionality and performance while rendering and animating high definition models of precious metals and stones." Says Philippe Blache, Director for 3D Software Solutions at Gravotech Group.
About Gravotech
Gravotech Group is the worldwide leader in the design, manufacturing and distribution of innovative solutions for engraving, marking and artistic modelling.
With over 26 years experiences, its brand TYPE3 represent innovative and specialized software solutions, for Artistic CAD and CAM application. Among them, 3DESIGN and 3SHAPER, dedicated to Jewelry, Watch and fashion accessories creation. Based in Lyon (France), Gravotech has over 900 employees and is present in more than 100 countries.
The Group boasts a vast international network: 25 subsidiaries and 300 distributors work alongside its 60,000 international customers, assisting them with their local or global challenges.